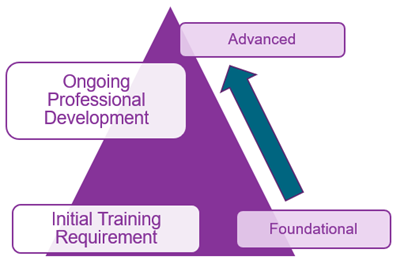 The ESIT In-Service Training framework allows for a continuum of training opportunities, from foundational to advanced, to meet the unique professional development needs of our diverse workforce.
The In-Service Training Framework includes two components:
These requirements and professional development opportunities are funded for ESIT professionals only. Learn if you are employed or contracted by an ESIT Provider Agency.
For questions about available professional development opportunities and training requirements, email dcyf.esittraining@dcyf.wa.gov.
How to Complete Online Training
FAQs
Select one of your T-DMS accounts to be your "primary" MERIT account. You will use the username and password from this T-DMS account to sign-in to MERIT and apply for a STARS ID number. Once you have a STARS ID number, you will be able to register in the DCYF Student Training Portal.
Federal Resources
Individuals with Disabilities Education Act (IDEA), Part C
Early Childhood Technical Assistance Center (ECTA)
Council for Exceptional Children, Division of Early Childhood
NECTAC Quality Outcome Family Measurement Results