The Office of Tribal Relations has two primary roles:
Support the delivery of DCYF services that are of high quality and culturally sensitive
Ensure tribes can access DCYF services in a timely manner
Our office coordinates, monitors, and assesses DCYF's relationships with tribes and Recognized American Indian Organizations (RAIOs), working to enhance and improve government to government relationships. Our goal is to assist the collective needs of Tribal Governments and RAIOs to assure quality and comprehensive program service delivery in the areas of child welfare & early learning.
Contract
DCYF contracts with all 29 Federally Recognized Tribes in Washington State to provide Indian Child Welfare (ICW) and Independent Living (IL) services to their members.  Each Tribe that has a contract with DCYF must provide Quarterly Expenditure Reports (QER) and an Annual Report at the end of the fiscal year. 
Reporting Forms
Centennial Accord
DCYF is working with the 29 federally recognized tribes in Washington to create its state agency Centennial Accord plan. Once complete this plan will be posted here.
Advisory Groups
House Bill 1661 which created DCYF, mandated the creation of a new stakeholder advisory mechanism and external review protocol, with a report on this due to the Legislature in December 2018. Until that time, these existing advisory bodies will continue to meet and consult with DCYF.
Consultation Policy
The purpose of this policy is to direct the procedures that reflect the government-to-government relationship of Washington State federally recognized tribes and the Department of Children, Youth, and Families (DCYF). This policy follows a government-to-government relationship in seeking consultation and participation by representatives of tribal governments in policy development and service program activities in a manner that complies with Chapter 43.376 RCW and the Washington State 1989 Centennial Accord.
Tribal Meetings
Indigenous Children, Youth, and Families Conference: Registration Now Open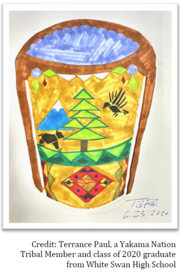 The Washington Indigenous Children, Youth, and Families Conference on August 11-12, 2020 will be an opportunity to come together and learn, with content focusing on Indigenous child and family wellbeing, Early Learning and the Indian Child Welfare Act. The event will be held virtually. Details around platform and information around session links will be shared before the event.
This year's agenda includes opportunities to hear from experts in the fields of secondary trauma and resilience, learning and culture and disproportionality. There will also be sessions on home visiting, legal education, kinship resources and more that will offer opportunities to build professional skills.
We are working on offering STARS credit and CLEs for some sessions. Details will be included in conference materials.
Register by July 31, 2020 to secure your spot! Click here for details. If you are an employee at DCYF, this link will give you the information you need to register in Maestro. If you are a caregiver, judicial personnel/legal, a Tribal partner or part of another audience, please create a profile on the Alliance website, then proceed with registration as a Caregiver.
TPAC - August 7, 2019