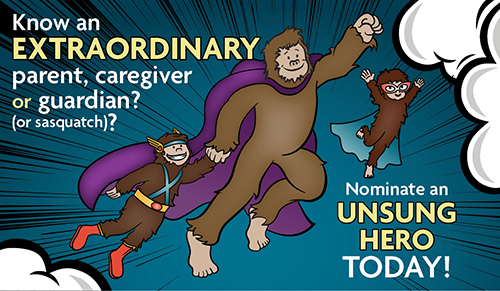 Each year we honor parents and caregivers in Washington for the roles they have taken with their families, schools and communities. They have shown strength, courage and empathy in their communities. Help us honor 29 more in February 2024 by nominating a parent or caregiver for the Unsung Hero award. The nomination form is available in English, Spanish, and Somali. Nominations must be submitted by January 5, 2024.
---
Strengthening Families Washington is a program within the Department of Children, Youth & Families whose main focus is helping families become stronger together through a variety of tactics, including:
Home visiting
Community outreach and partnerships
Funding opportunities with local organizations
In addition, we assist with several public awareness campaigns including, Speak Up When You're Down and Have A Plan: Shaken Baby Syndrome and Safe Sleep.
There are five protective factors known to help reduce child abuse and neglect:
Knowledge of parenting and child development
Social connections
Parental resiliency
Concrete support in times of need
Social and emotional competence of children/nurturing and attachment
By providing information to parents, child care professionals and others who work with children, we help build these protective factors in families with young children and build family strength and a family environment that promotes optimal child and youth development.
We believe in partnering with parents and caregivers and encourage leadership and collaboration in all our work. If you are interested in opportunities or would like to partner with Strengthening Families Washington, please email strengtheningfamilies@dcyf.wa.gov.