Passion to Action (P2A) is a statewide youth and alumni advisory board to Washington State's DCYF. Learn more and get involved in Passion to Action!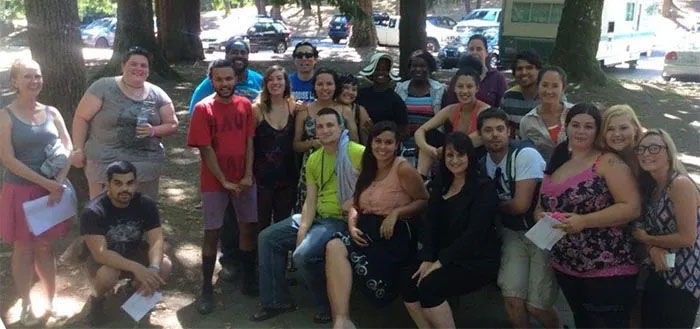 Vision
Passionate voices into positive change.
Mission
As youth and alumni of foster care we, Passion to Action, advocate for positive change. We collaborate with others to develop innovative alternatives to existing and potential problems facing foster youth. We create and facilitate change in order to ensure that not only are the needs of our brothers and sisters in foster care met, but that they are provided with opportunities to succeed in life.
For young people, by young people
What is the Passion to Action Advisory Board
Passion to Action (P2A) is a statewide youth-led advisory board to Washington State's DCYF. P2A members provide DCYF with input, feedback and recommendations regarding the agency's policies, practices and publications. Additionally, DCYF utilizes P2A members in many of the agency's training courses and presentations to ensure that caseworkers, foster parents, and the community at large learn about the experience of being in the foster care system from those who have the expertise, youth in care and alumni.
Get Involved
Make an impact on the foster care system and foster youth. Make an impact on your life.
Impact the foster care system
Provide input on policy, practice, and procedure. DSHS, Children's Administration uses your feedback to make positive changes for foster youth.
Give presentations around the state on issues relating to foster care and share your story. Your story can make people listen.
Give feedback on brochures, websites, and other literature published for foster youth.
Sit on local action/support groups for foster youth and alumni in your region.
Impact foster youth
Mentor foster youth on services and supports available to them.
Be a voice to those in foster care. Help ensure youth are heard.
Be a role model and partner to youth who are looking to make a difference.
Impact your life
Gain experience in communication, public speaking, leadership, and advocacy. These experiences are valuable job and life skills.
Give back to your community by providing assistance to local and state groups for foster youth.
Develop the confidence to speak out and realize your potential as a leader and an advocate for change.
Form connections with other foster youth, supportive adults, businesses and communities across the state.
In Our Own Words
"I was 13 when Passion to Action started; I was shy and didn't believe my voice mattered. I am now 18 and I have learned that advocating for myself isn't a bad thing. I have become a confident, caring, compassionate woman. And a lot of it has to do with this group."
"Passion to Action is like the ultimate family. We all have endured hardships but have triumphed over them."
"We make the hand that was dealt to us work!"
"Being part of Passion to Action has shaped the person I am. I have found my calling through this group."
"We are about giving a voice for those in out-of-home care and making sure it is heard!"