Family Practice Model
The Family Practice Model (FPM) is responsive to the DCYF Strategic Initiative to Improve the Quality and Intention of Practice. The FPM framework is an organizing structure that outlines the agency commitment to apply our values to equally to case management practice and support for case worker development, notice two sides of the framework graphic. The framework represents a methodical and reliable way to prepare and support staff to adapt to practice changes and promote a best practice standard for case work.
As the FPM team co-designed the FPM framework, they also engaged with staff to define the agency values of inclusion, respect, integrity, compassion and transparency. Furthermore, staff identified specific ways that each value is demonstrated in our work with families and how the agency can demonstrate each value in supporting staff development, attending to the professional and personal nature of the work.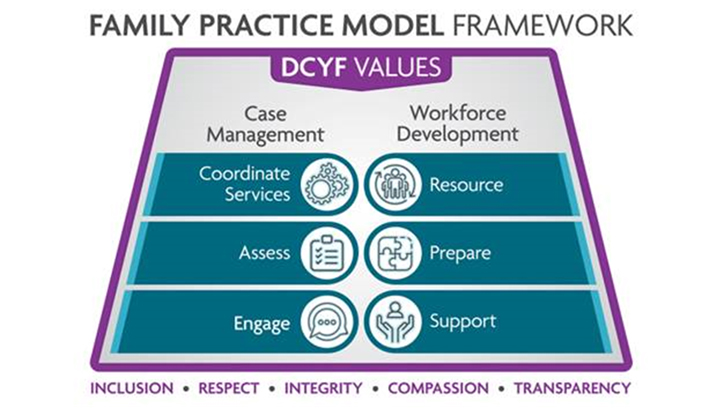 The FPM establishes a system to operationalize agency values through case practice in a way that promotes consistency of HOW workers engage, assess, and coordinate services with/for families.
The mission of FPM is to prepare and support field operations staff by clarifying values driven practice standards and commitment to enhancing the professional environment for staff. The FPM includes a cohesive effort to launch guidance on policy, procedure, Family Practice Profiles, workforce development, and quality assurance.
For more information, please email Regina McDougall at regina.mcdougall@dcyf.wa.gov