May 5, 2021
Tribal ECEAP During COVID-19
Washington Tribal Nations are comprised of strong communities rooted in family, culture, and tradition. Like others, the COVID-19 pandemic and Washington State's Stay Home, Stay Healthy order had huge impacts on tribal communities. For tribes, this included interrupted community gatherings, cultural activities, religious practices, and early learning services.

Safety precautions are tremendously important in tribal communities because tribal people are statistically at higher risk of illness and death with and without the impacts of COVID-19. Children in tribal communities frequently interact and connect with elders, creating a greater risk to these vulnerable community members. Disproportionately, the Centers for Disease Control and Prevention (CDC) research indicates that American Indian/Alaska Native (AI/AN) people are among the racial and ethnic minority groups at the highest risk for severe COVID-19 outcomes. They link this to persistent racial inequity, historical trauma, and interconnected services.

In the 2019-20 school year, 10 tribes in Washington provided Early Childhood Education and Assistance Program (ECEAP) in their communities. Tribal ECEAP programming provided children and families with health services, family support, and education, along with other supports that meet the needs of each tribe such as culture and tribal language. Teaching young children traditional ways of life is an important part of building strong tribal communities. 

When tribal health departments instructed tribal ECEAP sites to suspend in-person services to protect children and their communities, tribal ECEAP quickly moved to provide modified services for children and families. Tribal ECEAP sites used a variety of creative ways to provide culturally responsive modified services to ensure children continued receiving education and families continued to receive support services. Tribal ECEAP also worked with families to ensure they could meet basic needs and that isolation was minimized. Perhaps most importantly, tribal ECEAP worked with families to stay connected to culture and community during the pandemic to reduce isolation.
Suquamish Tribe
The Suquamish Tribe Marion Forsman-Boushie Early Learning Center ECEAP set up modified services to support families when the program determined the need to suspend in-person services because of COVID-19. Suquamish ECEAP provided weekly contactless meal pick-up to families in their program. The food boxes included traditional Native food items such as nettles and rosehips along with recipes and instructions about how to use the traditional foods. Enrolled families were also given hard-to-find items such as diapers and pull-ups along with extra food.
Suquamish ECEAP provided each family in their program a Lushootseed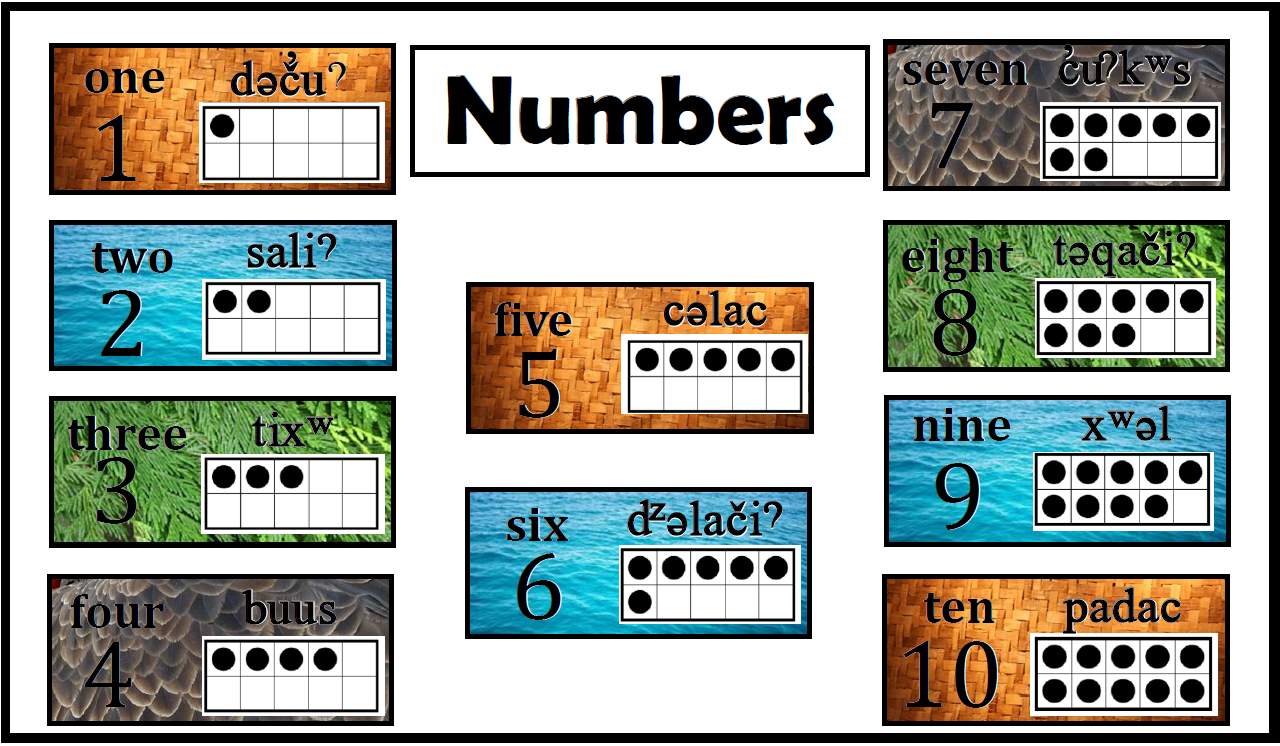 language counting poster along with a video of counting in Lushootseed on the program's Facebook page. This is an activity that is used during Suquamish ECEAP in-person classroom services. Staff worked with families to support them in continuing language learning at home. This provided a bridge to learning children experienced in the classroom to the home.
ECEAP staff maintained regular contact with families using individualized phone and video chat meetings. Teachers used their meetings with families to read to and sing with children as well as provide family support.

Suquamish ECEAP faced the challenges of the COVID-19 pandemic and found new ways to meet the educational and cultural needs of each family in their program.