February 28, 2020
When Amanda of Puyallup was told a new caseworker was assigned to her case, the foster parent of three was scared and didn't know what to expect but her worries quickly faded away when Carla Lopez-Wilkerson arrived at her door.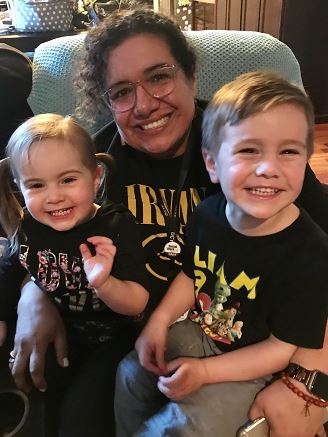 Lopez-Wilkerson, a caseworker out of the Puyallup office, began working with Amanda in July 2019. 
"As a newer foster parent, the thought of getting a new social worker just as we were trying to set a court date was scary," explained Amanda. "Thankfully we won the social worker lottery."
As soon as Lopez-Wilkerson arrived at her home to meet with the two children, aged three and two, Amanda realized "she was more than good, she was exceptional."
"Right after coming inside the house, she immediately sat on the floor and played with the kids, which was a first for me," said Amanda, who's been a foster parent since 2017. "From the first home visit, our time with Carla instantly felt different."
The two young foster children were generally cautious around strangers due to trauma they've experienced but Lopez-Wilkerson was caring, warm and respectful, says Amanda adding that she saw a connection right away and from that day forward a beautiful bond began. 
"They only met her seven times but you would never know that because the kids got really excited whenever I told them our friend Carla was visiting," said Amanda. "Carla was always willing to answer my questions, always made me feel like a respected member of the kid's team and made sure I understood the process."
For Lopez-Wilkerson, this is no different than how she handles any of her other cases. 
"I love engaging with all my clients," says Lopez-Wilkerson. "I try to be as transparent as possible, compassionate and constantly check inherent biases and use safety analysis throughout the life of the case."
The siblings are now legally free after two years in care and Amanda is beginning the adoption process. Amanda also fosters another sibling of the two. 
"I don't think the case would have been quick to reach permanency without Carla," Amanda points out. "As soon as I met her she asked, 'What do you need from me?"
Kwesi Booker, DCYF Assistant Secretary of Field Operations says it is important to recognize staff, especially during National Social Work Month. 
"DCYF is thankful to have someone like Carla who is committed to the work we do for our children, youth and families," said Booker. "We know she is not an exception but an example of the type of caseworkers who are out in the field bringing families together and keeping children and youth safe."
Joel Odimba, Regional Administrator for Pierce and Kitsap County, says he is proud of Carla and always appreciates hearing from the families DCYF serves.
"Our work is done through partnership with caregivers so it is uplifting for staff to be complimented for a job well done," said Odimba. "This story shines the light on the great job our staff do every day to achieve outcomes and promote the agency's mission and values."
For Amanda, it was clear that this wasn't just a job for Lopez-Wilkerson, but that she truly cared for the well-being of the kids and caregivers on her caseload.
"There are good social workers out there but sometimes the negative stories we hear overshadow that," said Amanda. "We will forever be grateful that Carla came into our lives and helped attain permanency for our little ones. She will always remain a part of our family and a part of our kiddos story."