May 6, 2020
Earlier this year, Shane Guevara, a foster youth from Orting, was chosen to throw the first pitch at the Mariners' "We Are Family Day" but after Covid-19 restrictions postponed the event, his community decided to recognize him on their baseball field.
Guevara, 18, was placed with his kinship caregiver four years ago on his 14th birthday. He and his brother were in multiple placements before arriving in Kim Farnes and Carl Scanson's home.
When Guevara first moved in, he struggled with past trauma and trust, constantly hiding from people because he didn't want them to see him.
Over the past four years, Shane blossomed. He got a job, bought himself a car, is in advanced placement classes, volunteers for many community events and presented at the "We the People – The Citizens and the Constitution" annual competition.
"We sat in the audience amazed at how far this kiddo has come," said Farnes. "He went from hiding under benches and behind poles to avoid any interaction with others, to a kiddo who shared his perspectives in front of judges and others."
Farnes, now a licensed foster parent, worked closely with the boys' birth mother and eventually Shane's younger sibling returned home.
Earlier this year, DCYF chose Guevara to represent foster youth for the We Are Family Day event. DCYF and his school surprised Shane with the announcement during a small ceremony.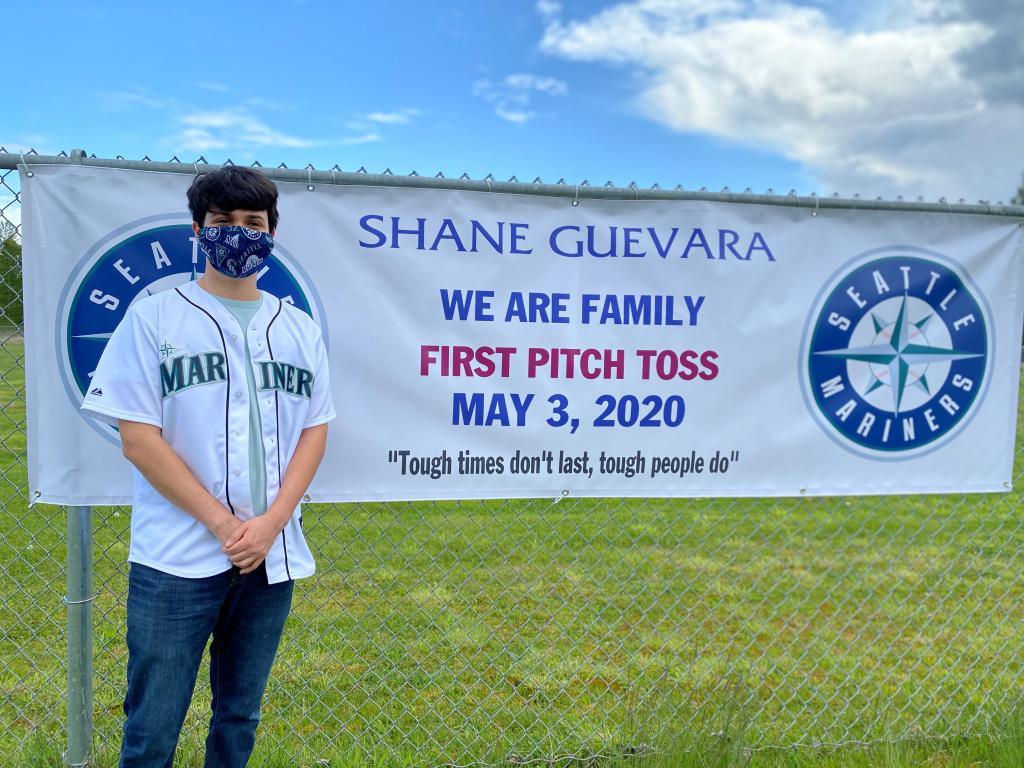 "After receiving over thirty nominations, the selection committee unanimously chose Shane," explained Codie Veitenheimer, DCYF's Foster Care Recruitment Program Manager. "He stood out due to his perseverance, resiliency and desire to give back and help others."
Shane is set to graduate in June and will begin his basic training with the Army National Guard in August, he was recognized by his school and supporters this past week in a drive-by celebration.
"I wish everyone knew how awesome being a placement home could mean, both for the kiddos, but more importantly, for the homes they come into," said Farnes. "I don't know what's in store for him down the road. I just know that Shane can do whatever he sets his mind to do."
Farnes wanted to make sure Guevara had one last going away celebration. The caregiver planned a social distancing event to allow Guevara to throw the first pitch he is now likely to miss.
Dozens of people showed up in their cars at a baseball field in Orting, including the Orting Mayor, Orting Valley Fire and Rescue, Orting High School Staff, DCYF staff and members of the caregiver community.
"Shane has shown dedication to the Orting community by volunteering for community events…the Mayor of the City of Orting wishes to express his appreciation and admiration for the achievements of this remarkable young man," read the proclamation that declared Guevara worthy of an Exemplary Character Award.
To maintain social distancing, people remained in their vehicles and wore face masks as they watched Guevara throw a pitch to Scanson, all while rocking a Mariners jersey. The event ended with Guevara handing out Cracker Jacks to children.
"We thought it was important to honor Shane now because his journey and accomplishments deserve recognition," said DCYF Kinship and Caregiver Retention and Support Program Manager Holly Luna. "Seeing Shane run out to the ball field and throw his first pitch while his family and community honked and cheered him on spoke not just to the impact they've had on him but also his impact on their lives."