November 13, 2020
In the small, close-knit community where Lake Quinault Early Childhood Education and Assistance Program (ECEAP) provides services, health has remained a high priority throughout the COVID-19 pandemic. When Lake Quinault ECEAP engaged in Non-Traditional Remote Services (NTRS) for education and family support, they planned specifically to continue to carry out critical health services safely in person.
The Lake Quinault ECEAP director worked closely with the school nurse and interpreter to share with all families what services were available in person for children. This included:
Hearing screenings
Vision screenings
Taking height and weight measurements
Referrals to additional care for any concerns
Families who opted in for these services were required to wear masks, have a temperature scan and use hand sanitizer upon arrival. Staff also wore masks and cleaned and sanitized surfaces and tools between each individual family appointment.
Opting in to services was Adrian (pictured) with his grandmother and aunt. His family was thankful to be able to talk directly to Lake Quinault staff about the results of Adrian's health screenings.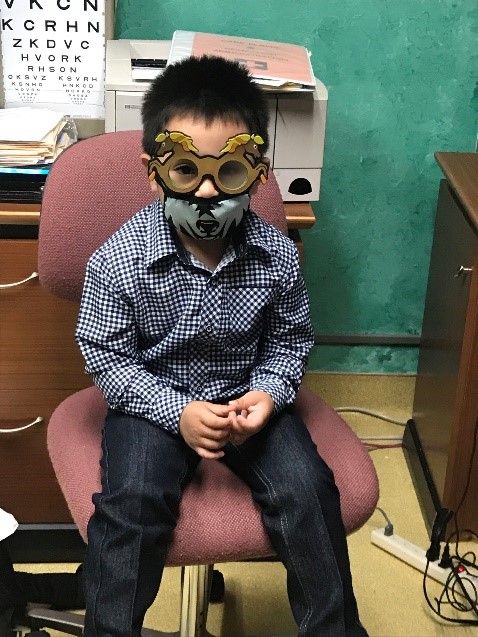 When asked about the new process, the Lake Quinault ECEAP director reflected that "the family was present for comfort, with the nurse (who was a new person in a mask) … we didn't have to re-screen because of shyness, lack of cooperation or language difficulties. It made the hearing and vision screening process go smoother than in years past — not as many tears and fears. We are considering doing it this way next year as well."
Health services is one of the critical three pillars of comprehensive ECEAP services, in addition to education and family support. Not just at Lake Quinault ECEAP, but throughout the state, countless families have had more success in ensuring their children have access to needed health screenings, support and exams with the help of ECEAP health services. For a statewide picture, please see the "ECEAP Impact on Child Health" table below:
ECEAP Impact on Child Health, 2018-19

ECEAP health services across the state have continued during the pandemic to ensure that children and families have access to the health care they need and are prepared for learning and life.